Just in time for the Holidays, Josh and Emily get into the spirit and decorate the bar. But what would a bar be without patrons, and this time, they are joined by The Diad and Wicked Sephiroth to help consolidate the cheer with their own track selections and memories. But, you probably have some questions, such as: How did they get here? Where is the Devil's Course? What is up with that spooky Christmas tree? Is this song speeding up? Find out the answers to all this and more on this very special VGM Jukebox reunion episode!
Answer Key: A combination of necromancy and Christmas magic, somewhere between hell and heaven, see question one, and no it's not.
Click above to listen or subscribe. Click below for a direct download.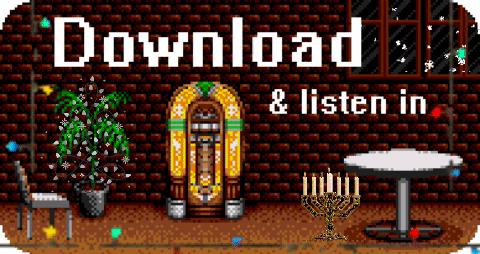 This episode was made possible by:
Game
Track Title
Composer(s)
Donkey Kong Country
Northern Hemispheres
Eveline Fischer, David Wise, Robin Beanland
Devil's Course
Menu
Yumi Kinoshita, Shigekazu Kamaki, Shunsuke Minomiya, Yusaburo Shimojyo and/or Akira Tamada
Toy Story
Inside the Claw Machine
Andy Blythe, Marten Joustra, Randy Newman, Patrick J. Collins (arr.)
Earthbound
Winter's White
Keiichi Suzuki, Hirokazu Tanaka, Hiroshi Kanazu
Silent Debuggers
Input Your Name
Shogo Sakai, Masaaki Iwasaki, Takafumi Miura,Yusuke Takahama, Yuji Suzuki
...and listeners like YOU.